Wondering how to cook pizza without oven step by step? Well today, I'm going to  guide you on my no-bake pan pizza recipe that doesn't need oven! If you don't have oven and you still want to make your own pizza at home, this recipe is for you.
Whether you're using a store-bought dough or pizza dough from scratch, you can still cook a pizza without an oven. All you need is a skillet with cover, the pizza dough and your toppings of choice.
How To Make Pizza At Home Without Oven
Preparing No Yeast Pizza Dough
1. In a mixing bowl or pan take 3 cups all purpose flour (maida), ½ teaspoon salt and ½ teaspoon sugar.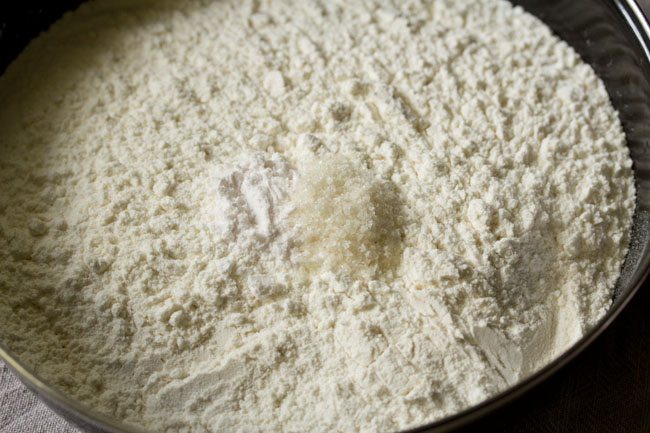 2. Add ½ teaspoon baking soda.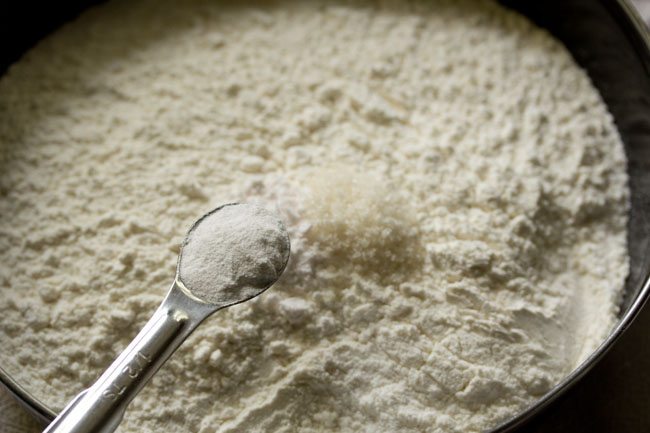 3. Then add 1 teaspoon baking powder. mix very well.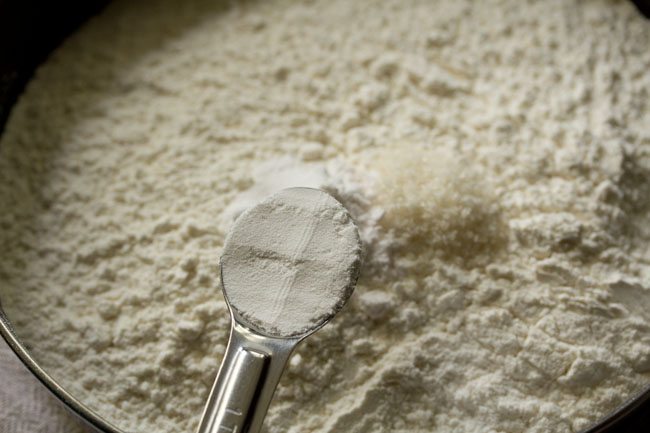 4. Add 2 tablespoons olive oil.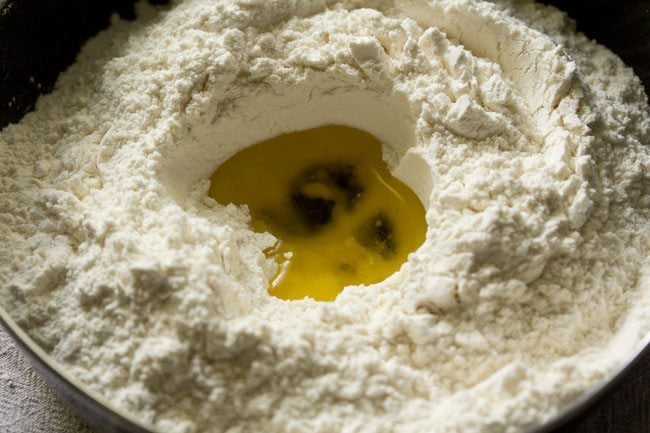 5. Next add 1 tablespoon lemon juice. Substitute 1 tablespoon vinegar if you do not have lemon juice.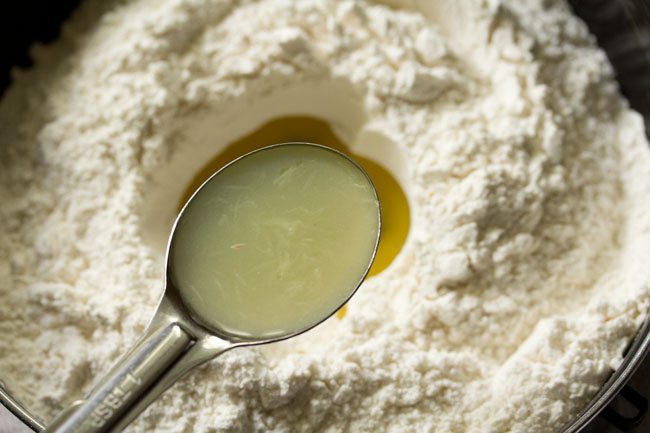 6. Add water in parts.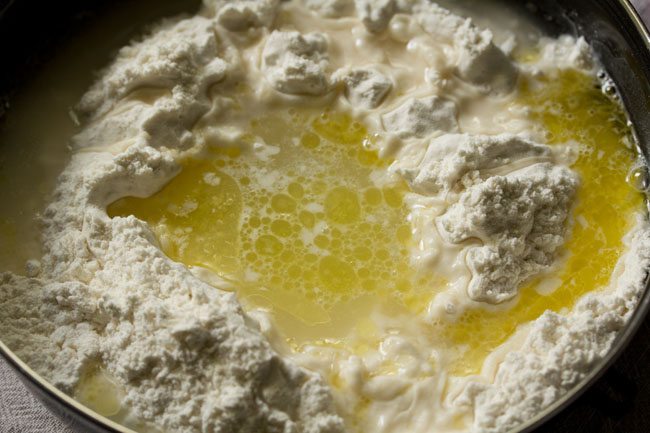 7. Begin to mix first and then start to knead the dough.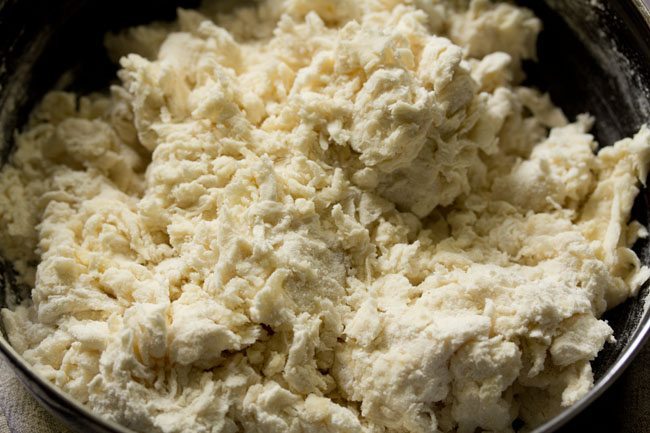 8. Keep on kneading till you get a soft and smooth dough. Add water in parts. I added ½ cup + 2 tablespoons water. You have to really knead very well. Knead at least for 10 to 12 minutes.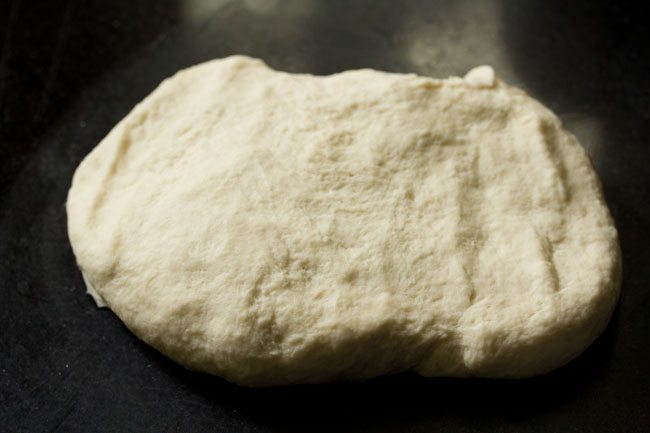 9. The dough should become elastic and stretchable. Take a portion and stretch it. It should not break.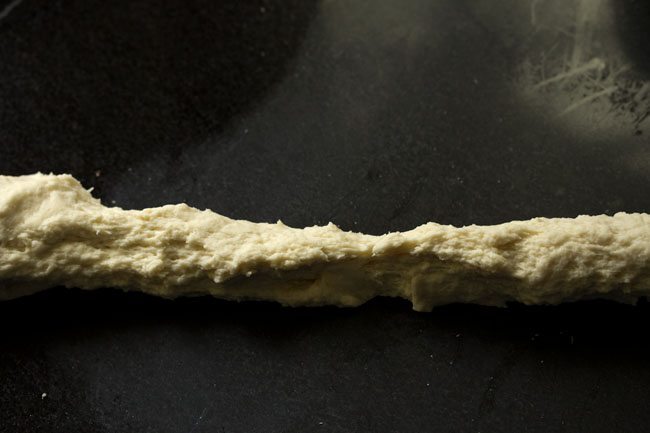 10. The pizza dough should not be sticky but tacky. Tacky means that when you press the dough, it leaves your fingers or peels from it, without any dough sticking to your fingers. Obviously, if the dough is sticky, it will stick to your fingers. In case the dough becomes sticky, then add some more flour and knead again.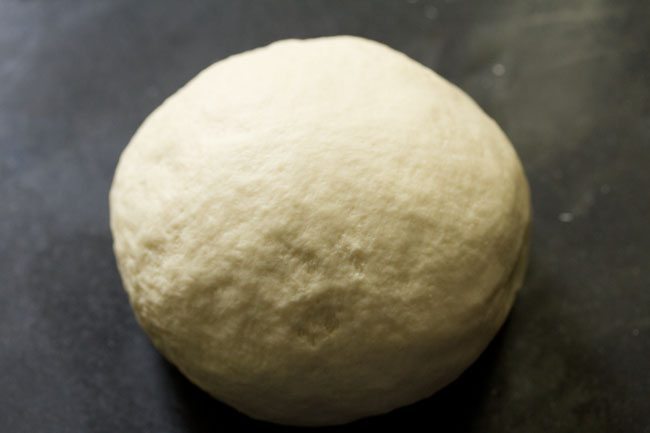 11. Rub some olive oil all over the dough and keep covered in a bowl. Allow the dough to leaven for 2 to 2:30 hours.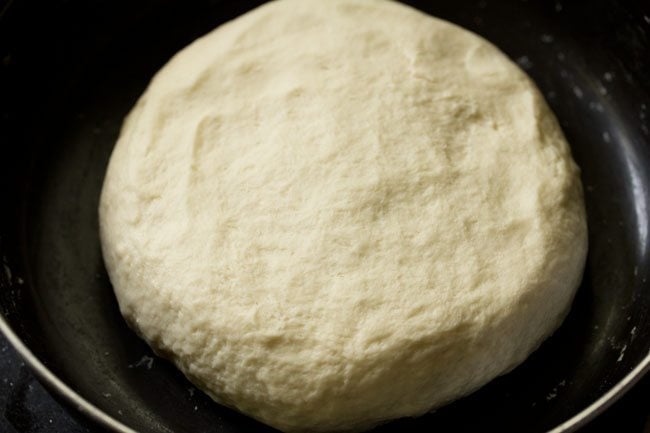 12. After 2 hours, a pic of the dough. Punch one of your fingers in the dough and the depression should give away. Cover and keep aside before you start assembling the veg pizza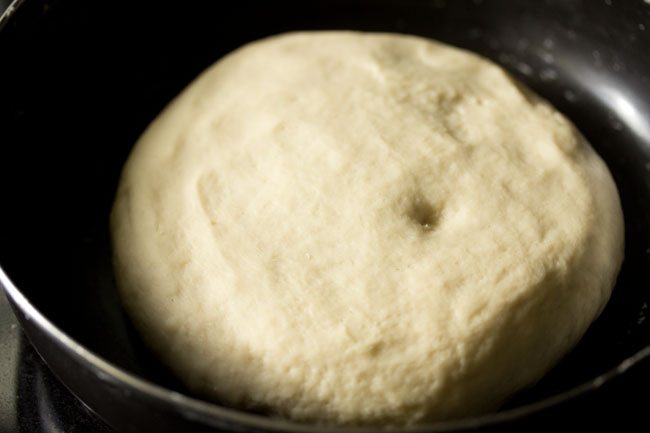 Marinating Vegetables
1. Chop the veggies and take them in a bowl. You can use your choice of vegetables. I have used onion, red bell pepper and tomatoes. The toppings are for 3 small sized pizzas.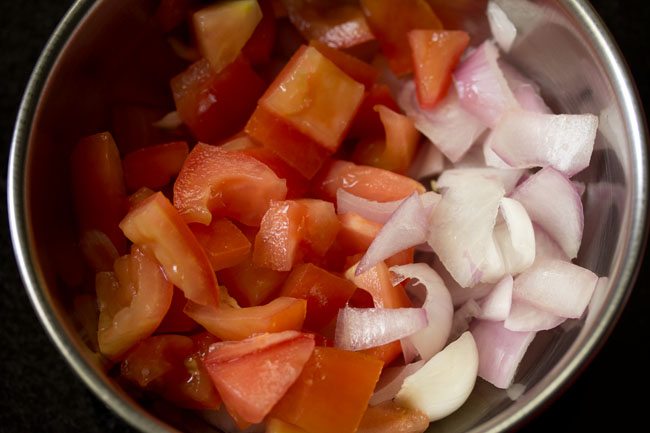 2. Add ¼ teaspoon finely chopped garlic, 1 tablespoon chopped basil leaves, ¼ teaspoon dried oregano.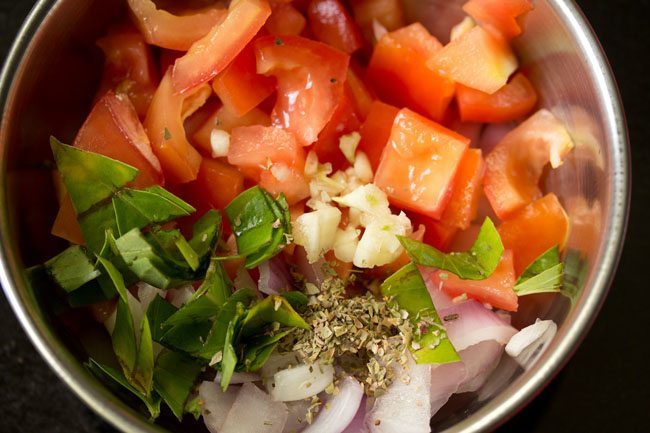 3. Season with ⅛ teaspoon salt or add as required.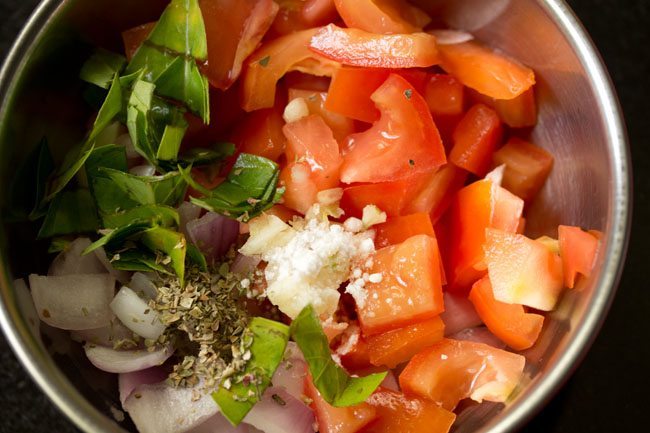 4. Add 1 tablespoon olive oil.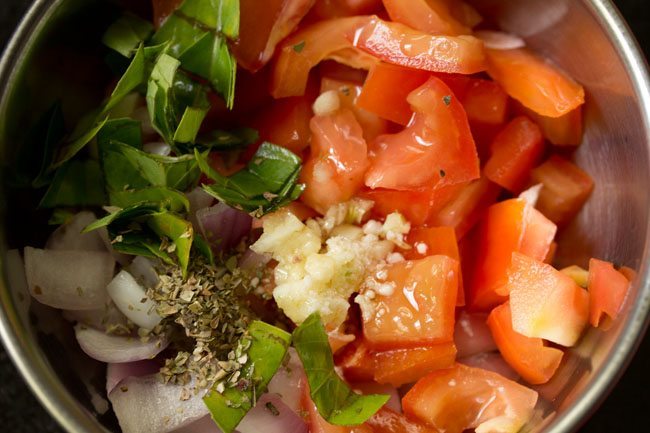 5. Mix very well and marinate the veggies for 15 to 20 minutes. Also grate the cheese and keep ready.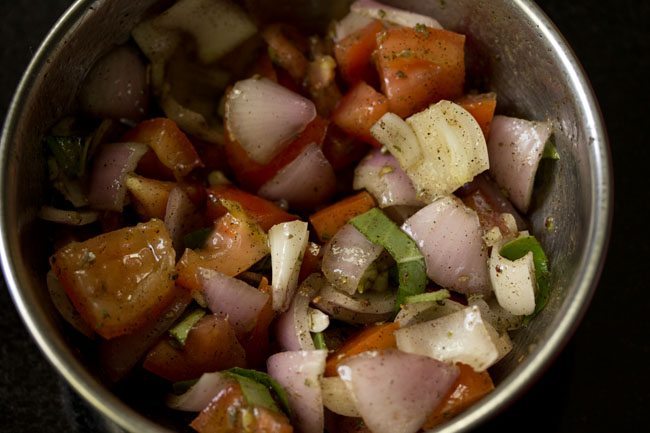 Rolling dough
6. Before making the pizza, knead the dough again.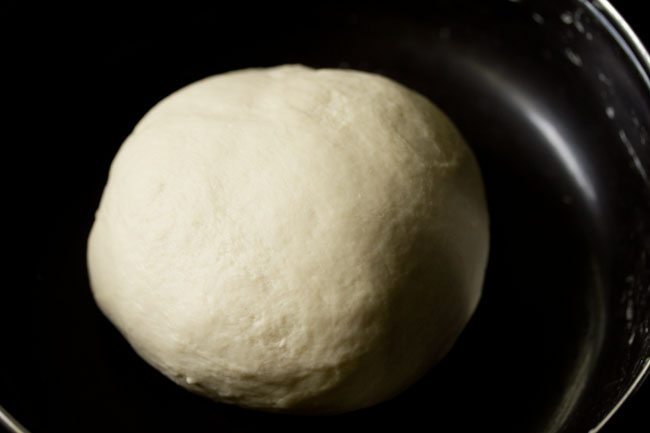 7. Take the veg pizza dough and divide it into 5 equal parts.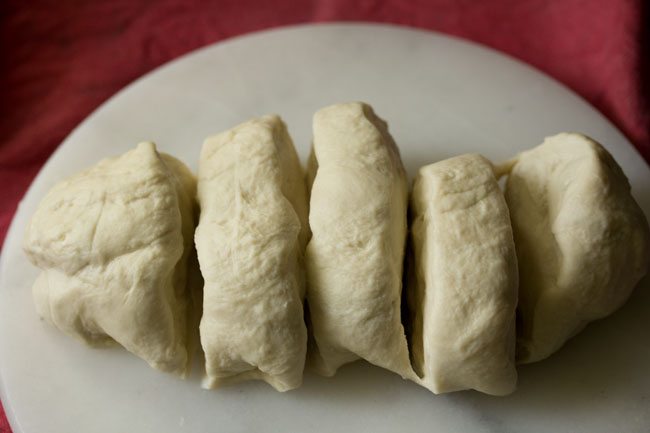 8. Take one part and roll it well between your palms. Flatten and keep on the rolling board. Sprinkle some flour.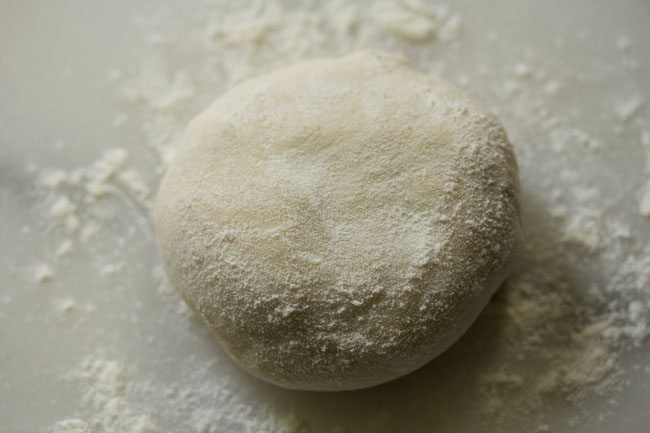 9. With a rolling pin, gently roll to a slightly thin round pizza. Roll to get a 0.3 to 0.5 cm thickness. Sprinkle some more flour if required while rolling.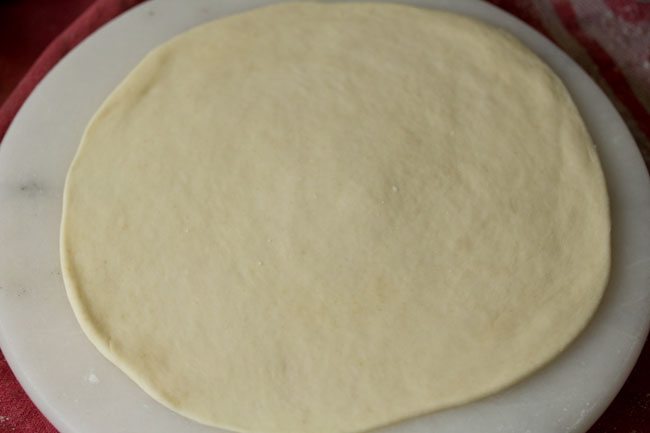 Assembling And Making Pizza
10. Heat a pan and brush or spread some olive oil on it.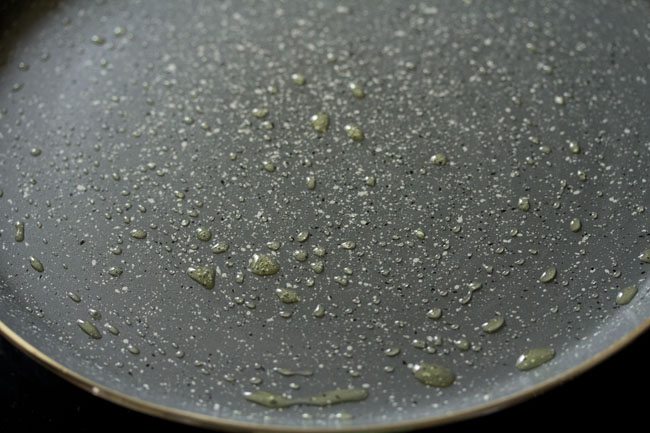 11. Now gently place the pizza on the pan.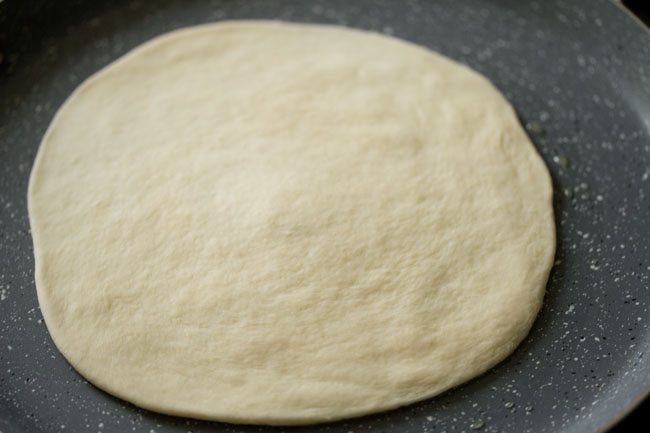 12. Keep the flame to a low or sim and cook the pizza.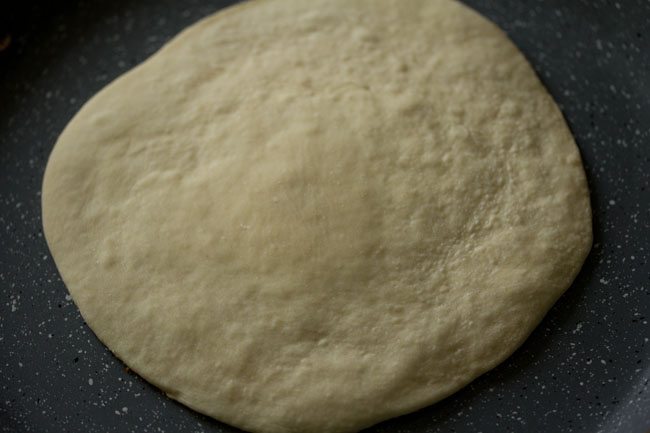 13. When you see bubbles coming on it and the base has become golden, then flip.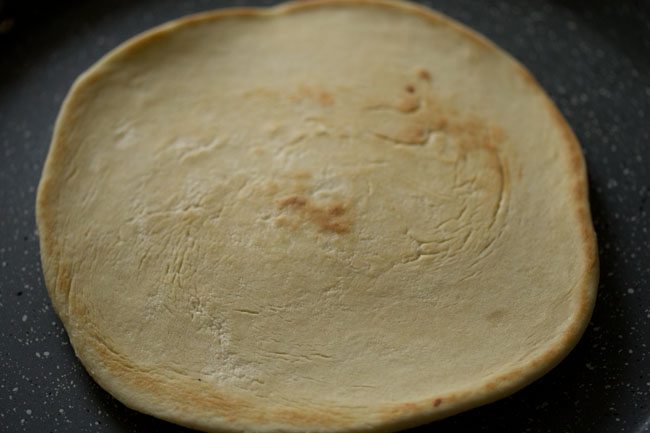 14. Now quickly spread the pizza sauce on this cooked side of the pizza.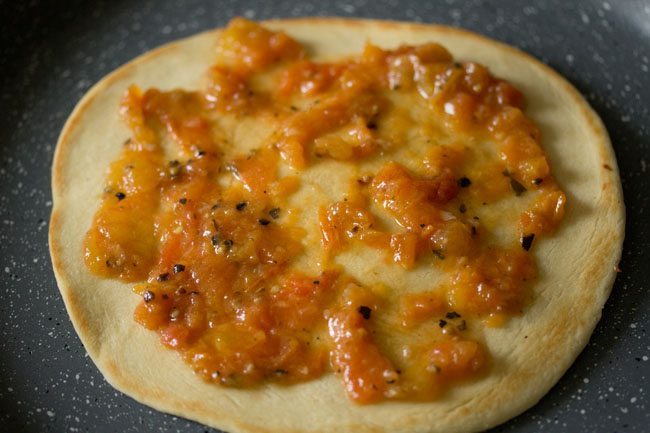 15. Sprinkle grated pizza cheese or mozzarella cheese. You can add cheese as required.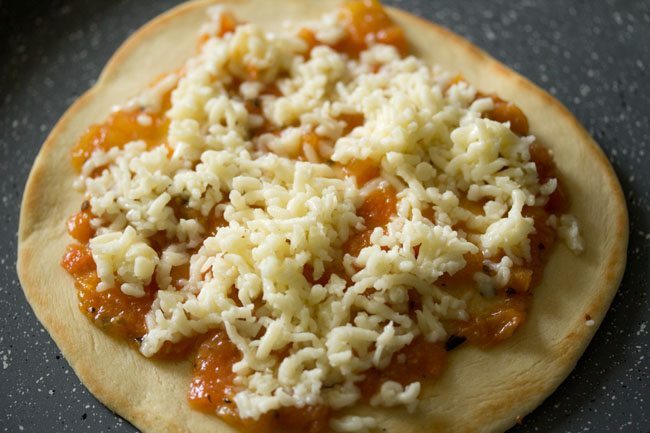 16. Top up pizza with the marinated veggies. While adding place the onions, tomatoes, bell peppers, first and then drizzle a bit of the marinated oil+juices mixture all over.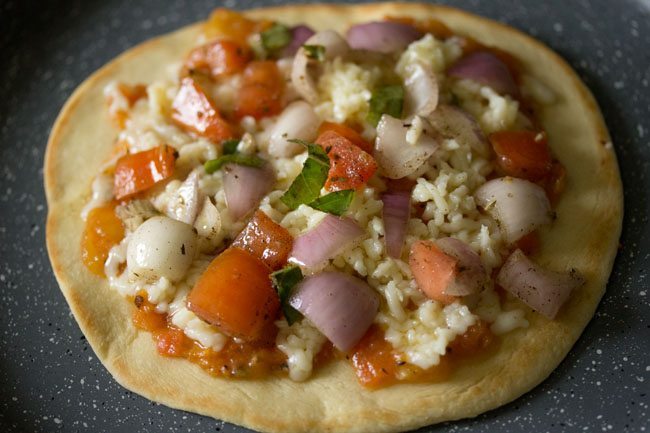 17. Cover with a lid and let the veg pizza cook on a low flame or sim.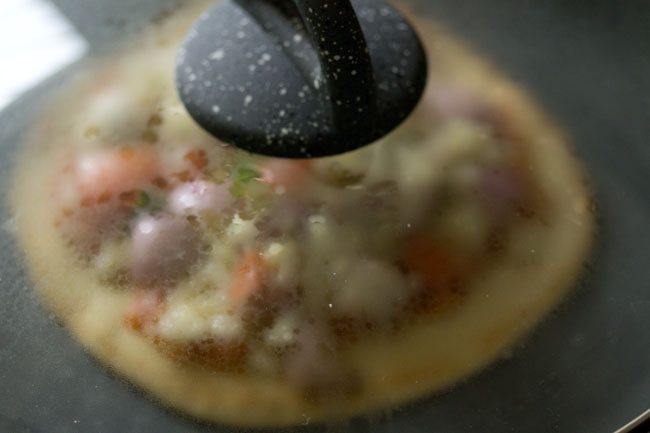 18. Cook pizza till the base becomes golden and crisp and the cheese has melted.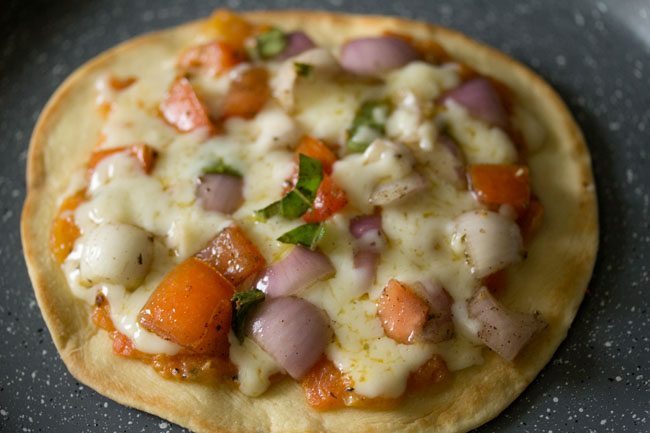 19. Remove and serve tawa pizza hot or warm with tomato ketchup. You can also sprinkle red chili flakes on top of the pizza, while serving.
Expert Tips On  How To Make Pizza At Home Without Oven Step By Step
Do use a thick bottomed tawa (non stick or cast iron) for making the pizza. If the tawa is thin and light, then the base can get burned.
You can also use a frying pan for preparing the pizza.
Also roll the dough slightly thin (about 0.3 mm to 0.5 mm), so that the pizza base gets cooked quickly. Thick base will take a lot of time to cook and the base will also get burnt by the time it cooks.
Cook on a low flame from the start till end.
Keep everything ready when you start cooking pizza on the tawa – pizza sauce, grated cheese and veggies.
Oregano and basil are essential herbs. You can use dried or fresh. If you do not have oregano and basil, then use any herbs of your choice. You can also use pizza seasoning.
No Oven Pizza Recipe-How To Make Pizza At Home Without Oven Step By Step
This stovetop pizza or frying pan pizza recipe will show you in step by step procedure how to make pizza in frying pan. stovetop pizza recipe is one of the best way to make homemade pizza. This is show you how to cook a pizza without an oven and will exactly show you how to make pizza in pan. if you feel adventurous and want to make your own pizza dough from the scratch, see the full recipe below.
How to Cook Pizza without Oven
INGREDIENTS
PIZZA DOUGH (Yield: 8-inch pizza)

1 1/4 cup all purpose-flour

1 tbsp. oil (vegetable, canola or olive oil)

1/2 cup warm water

1 tsp. sugar

1/2 tsp. instant dry yeast

pinch of salt

TOPPINGS (use any topping you want)

Pizza sauce (or tomato sauce)

mozzarella cheese

Pepperoni (cooked)

Ham (cooked)

green bell pepper

red onion
DIRECTIONS:STEP BY STEP GUIDE
In a mixing bowl, combine all-purpose flour, sugar, instant dry yeast and salt. Mix until well-combined.
After mixing, add oil and half of the warm water. Stir until the flour absorbs the water. Then, add the rest of the water. Mix until crumbly.
Dust your working surface with flour. Then put the crumbly, sticky dough. Knead the dough for around 5 minutes or until smooth. After kneading, the texture must be smooth and pliable.
Once the right texture is achieved, form the dough into a ball. Grease a bowl with some oil and put the dough in it. Lightly coat the dough with oil. Cover the bowl with kitchen towel or cling wrap. Let it rest for 1 hour or until the dough becomes double in size.
After 1 hour, when the dough rise, dust your working surface and flatten the dough using a rolling pin or with your hand until you get the right round size and/or thickness. After flattening, poke with fork to remove air pockets.
Cooking the Pizza without Oven
Grease a flat pan with some oil. Then place the pizza dough on it. Cover and cook for 5 to 7 minutes in low heat.
After 7 minutes, flip the dough to cook the other side. Cover again and cook for another 5 to 7 minutes.
After another 7 minutes, flip the dough again. At this point, you can add your toppings and sauce. Spread some pizza sauce, add the toppings and put some mozzarella cheese. Cover and cook for 8 to 10 minutes or until the cheese is completely melted.
Remove from the pan and slice. Enjoy!