We all have seen news about unauthorised spy cameras used by spy agents or people who don't trust us- we haves seen it in movies and also in real life! No one want's to be captured on hidden camera in his private life and exposed to the public but are these cameras legally acceptable?What does the law say?
According to South Korea Police on March 20, 2019, about 1,600 people have been secretly filmed by hidden spy cameras in the motel, hotel, inn rooms and even washrooms!
Spy cameras found by South Korea police inside a motel wall outlet (left) and hair dryer stand (right).
On April 3, 2019, CNN reported a piece of shocking news that about 1,800 women were secretly recorded in California labor and delivery rooms.
If you're concerned that someone might be spying on you, there are a few simple steps you can take to check for hidden cameras.
Most of these methods are totally free, legal and with a little effort you should be able to find any hidden cameras in your home,office or hotel.
Just remember, hidden cameras can be hidden anywhere, so it's important to be thorough in your search. But with these tips you should be able to uncover any hidden surveillance in no time.
Legislation On Hidden Cameras
Laws have strict legislation on privacy. Under no circumstances should anyone use hidden cameras to do illegal spying or surveillance.
Normally Hidden spy cameras are not allowed in the below areas:
Restrooms
Other people's homes
Dressing rooms
Locker rooms
Some Prayer Rooms
Other areas that are related to personal privacy
Laws also require that people cannot gather audio from:
Eavesdropping
Remote recording
Other illegal audio recording methods
Here Are 6 Simple Ways You Can Do To Detect A Hidden Camera: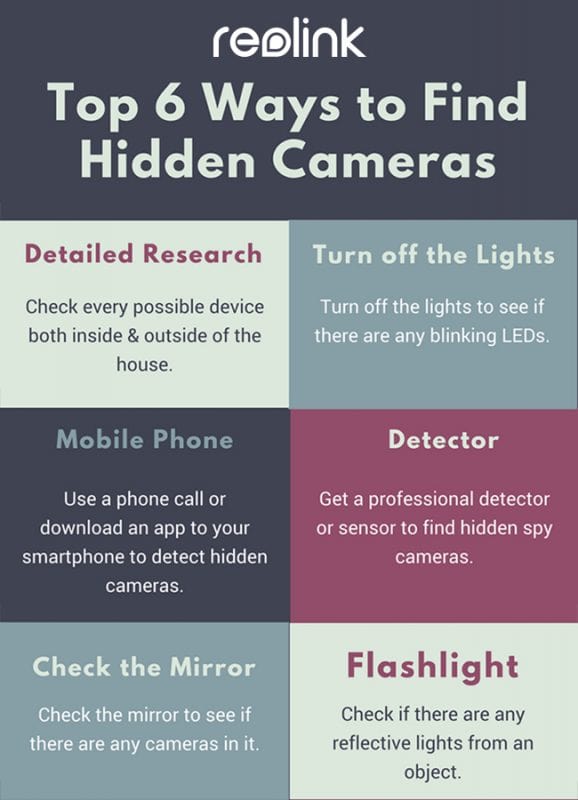 Check for any unusual objects in the room.
Turn off the Lights in Your Room to Spot Hidden Night Vision Cameras.
Use Your Mobile Phones to Locate Hidden CCTV Surveillance Cameras.
Use a Professional Camera Detector or Sensor to Spot Hidden CCTV Cameras.
Check the Mirrors in Your Room to Pinpoint Hidden Spy Cameras.
Use Flashlight to Find Hidden Cameras.
You can buy electromagnetic radiation detectors, optical detectors, and other equipment for detecting hidden cameras and use them to check each room yourself. The cheapest ones, with a detection radius of only a few feet, start at $3; professional and more powerful ones are obviously more expensive
How To Detect Hidden Cameras Anywhere Step-By-Step Guide
The below step-by-step will guide you to find hidden cameras within minutes. And it's totally FREE! Just a little trick can make the spy cameras no place to hide.
1. Scan The Environment Carefully
The easiest way to detect hidden cameras is checking around the environment carefully. Search carefully would be helpful to spot "obvious" hidden cameras.
Most Common Places to Find Hidden Cameras
Dolls
Pillows
Tv
Wall Clock
Tv Remote Control
Fire Sprinkler
Smoke detectors
Desktop Clock
Air filter
Books
Door Bell
Screw Driver
Light Switch
Wall decorations
Power outlets
Tissue boxes
Desk plants
Soft Toy
DVD Player / TV Box
Lamps
Some objects may reveal suspicious wires, if you find some unusual power outlets or adapters, unplug them immediately.
2. Turn Off All Lights And Draw Curtains To Spot Hidden Night Vision Cameras By Using Your Mobile Phone
Most hidden security cameras have red or green LEDs. The LEDs will blink or shine in low-light conditions.
When in low-light conditions, the LEDs around the camera lens will turn on to supplement the lighting for the cameras to produce clear night vision. You can spot carefully for red or green LEDs by using your mobile phone.
Step 1. Turn on your mobile phone camera
Step 2. Use your mobile phone camera to search around the room to find LEDs blink or shine lights
Tips: When you are traveling and stay in the hotel room, you can take a portable security camera with you. You can put it in your hotel room to see who entered your room without your permission. With a security camera installed in your hotel room, you can also keep tab on your stuff.
N/B You Can Also Use Some Mobile Phone Apps To Detect Hidden Camera 
3. How To Check The Mirrors In Your Room For Hidden Camera
Most hidden cameras in the mirrors are installed in the toilet or changing rooms. Some awful guys would install a hidden spy camera on the other side of a mirror that can see-through, while the front side looks like a normal mirror.
There's a tip for you to figure out whether there's any spy camera behind the mirror.
1. Point your finger on the mirror.
2. Observe the gap between your finger and mirror.
If there's a gap between your finger and the image, it's a real mirror. If you finger and the image touch tip to tip, there might be a hidden spy camera in the mirror.
4. Use Flashlight To Find Hidden Cameras (Works Best In Dark Environment)
1. Turn of the lights in your room and turn on the flashlight on your mobile phone
2. Pan the flashlight around the room.
Spot slowly and examine any suspicious. If you notice any reflective lights, there might be a hidden camera.
Best Hidden Camera Detector Devices Recommendations
Some of the readers have left their comments for the recommendations of hidden camera detector devices.
Thus, our team has done detailed research and shared some effective CCTV camera detectors that are effective to detect hidden spy cameras.
If you are looking for a spy camera detector to scan your bedrooms, living rooms, and other wide-range areas, especially in hotels and Airbnb, you can use the device that combines both RF signal and lens detection.
You can turn on the RF signal detection of the hidden camera detector first, and locate the main positions or areas.
After that, you can use the lens detection function to spot the hidden cameras.
A spy camera detector that combines the 2 functions would look like the one in the image below.
Popular brands that manufacture such professional counter-surveillance detectors are JMDHKK, Spy Hawk, etc.
This type of spy camera detector devices is often used in detecting listening or bugging devices and cameras in hotel rooms, bedrooms, confidential meeting rooms, dressing rooms, etc.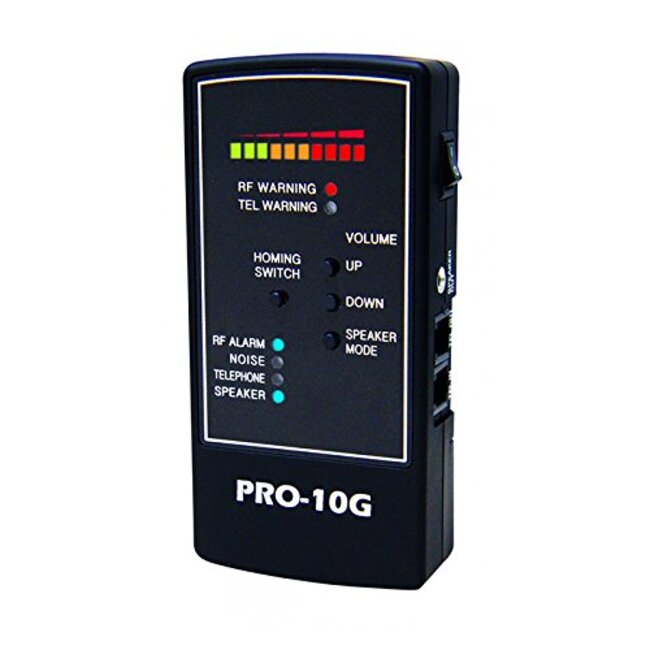 If you want to scan if there are any shower cam or hidden mic in the bathrooms or fitting rooms, you can get a  small and light camera detector like the below one.
Popular companies that make this type of light camera detectors are Flyeego, KJB Security, etc.
This type of camera detectors is suitable for detecting bugging devices in bathrooms, fitting rooms or other small rooms.
It's easy to use and quite small so it's portable to take.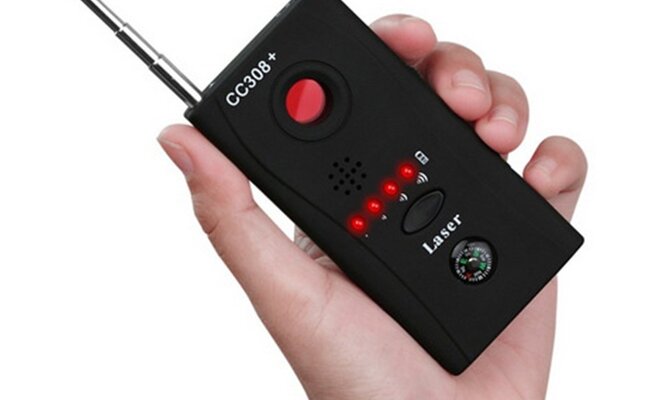 What To Do If You Detect Hidden Spy Cameras At Your Place
Step 1. Don't move or touch the hidden cameras.
Step 2. Take all of your belongs.
Step 3. Call the police.
How can you detect hidden cameras in TV or laptop? Do you have other easy tips to spot hidden spy cameras? Share your ways with us below -Thanks.